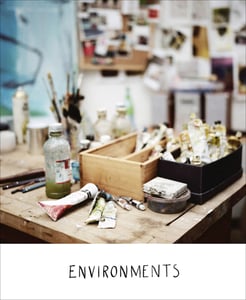 $

34.00
ENVIRONMENTS
photographs by Olga Bennett
with text and interviews by Sarah Caldwell
Environments is a book of photographs, documenting studio spaces of eleven creative people, most of them working in Melbourne and around.
Featured in the book are artist Amber Wallis,
sustainable fashion designer Ellie Mücke,
illustrator and graphic designer Luci Everett,
artist Justin Lee Williams,
graphic designer Marc Martin,
artist and jeweler Penny-Elizabet Neil,
graphic designer Suzy Tuxen,
artists Miso and Ghostpatrol,
sustainable stylist Kim Kneipp,
knitwear designer Elizabeth Rayman Yong
and ceramic artist Belinda Kennedy.
You can see more images here:
http://olgabennettphotography.com/projects/environments/
14.8 x 18 cm, 104 pages, perfect bound
ISBN 978-0-9871054-0-0
printed locally in Melbourne, Australia
on FSC certified recycled paper
edition of 150, all copies are numbered and signed by the artist.